';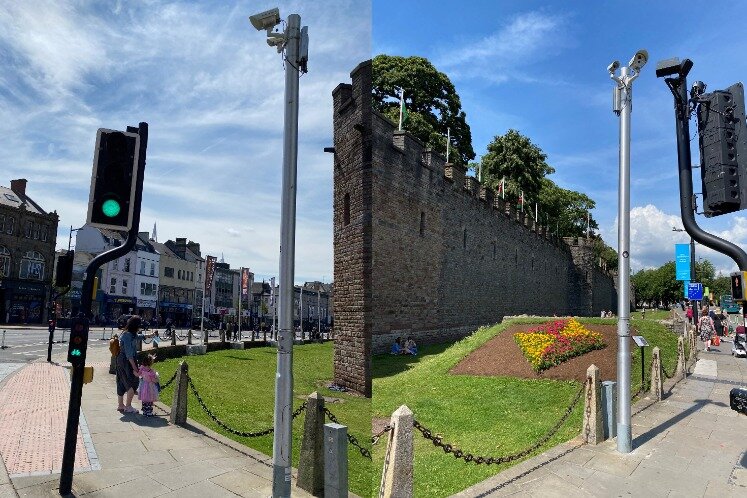 ---
More vehicles are on our roads than ever before. As local authorities incentivise footfall in our city centres, traffic management has never been more important.
Management and enforcement solutions have the opportunity to create synergy; to enable the peaceful co-existence of car ownership and active travel.
With some 500 systems installed by Systems Engineering & Assessment Ltd (SEA) across the UK from level crossings to box junction sections, more equitable relationships between pedestrians and drivers are being achieved.
Enforcement solutions require specialist equipment, commonly installed at height and require regular, physical assessments of hardware.
They are usually placed where traffic, both pedestrian and road, is particularly dense or is in some way irregular, and are commonly in the vicinity of other street furniture.
In other words, maintenance of these assets can be a pain; it is neither simple nor safe in many cases.
The System & The Support
---
A system is only as good as its support – and this applies to both the physical structure and its technical backend.
For inner-city areas in particular, it is the pragmatic thinking between designers to manufacturers, and the communication that facilitates such which prevents issues from arising on site.
For SEA, this is about ensuring all back office software is compatible across their range, providing continual technical support and the provision of unbroken, accurate data streams.
For ALC, this is about ensuring the system is structurally sound and can be lowered safely for maintenance,  allowing SEA to provide their service safe in the knowledge our columns are fit for purpose.
Indeed, a system is only a such if it works together; if the different aspects – whether technical or mechanical – work in harmony to achieve a desired result.
When the supporting structure is thought of as a contributor in achieving a solution, it opens a new range of avenues by which this can be achieved and broadened.
By contrast, considering the support structure as merely a means to elevate equipment locks out the possibility of achieving this additional value.
Echalon® Raise & Lower – One Person, One Key Operation
---
Fine tuned to the applied load through the door section, the Echalon® Raise & Lower column operates without any external winching equipment.
---
Bespoke Lowering Directions in Relation to the Door (360°) – Ideal for avoiding objects in the vicinity of the column.
NAL Retention Socket Compatible – System can be disconnected and re-erected elsewhere if required.
Controlled Lowering with Self Contained Counterbalance – No external winches required, just one hand sized key – no trip hazard to pedestrians.
Various Counterbalance Spring Options – Specific counterbalance is calculated for the particular loading of each column.
A Pragmatic Support Structure
---
Trends indicate technology will continue its gravitation towards city centres – and this technology must be installed somewhere.
Existing support structures are often structurally unsound, already in use for multiple smart city functions or are situated in unfavourable locations. New columns are often the answer, but there is an awful lot of choice.
Placing impetus on selecting a pragmatic support structure is becoming the fasion; a support installed in the correct location, with maintenance factored in from the outset allows for a system which will keep paying its owner dividends long into the future.
In our collaboration with Systems Engineering & Assessment Ltd (SEA), such a system is achieved by creating additional value in maintainability, minimising of disruption and danger to pedestrians during maintenance and ensuring the entire system is transferrable between locations by providing NAL socket compatibility.
With 500 installations across the UK it is clear that these benefits are recognised by consultants, designers, specifiers and local authorities alike.
E: sales@alulight.co.uk
T: 01639 852502
---
Find out more about SEA here.
Find out about our ongoing Level Crossing Enforcement Project here.